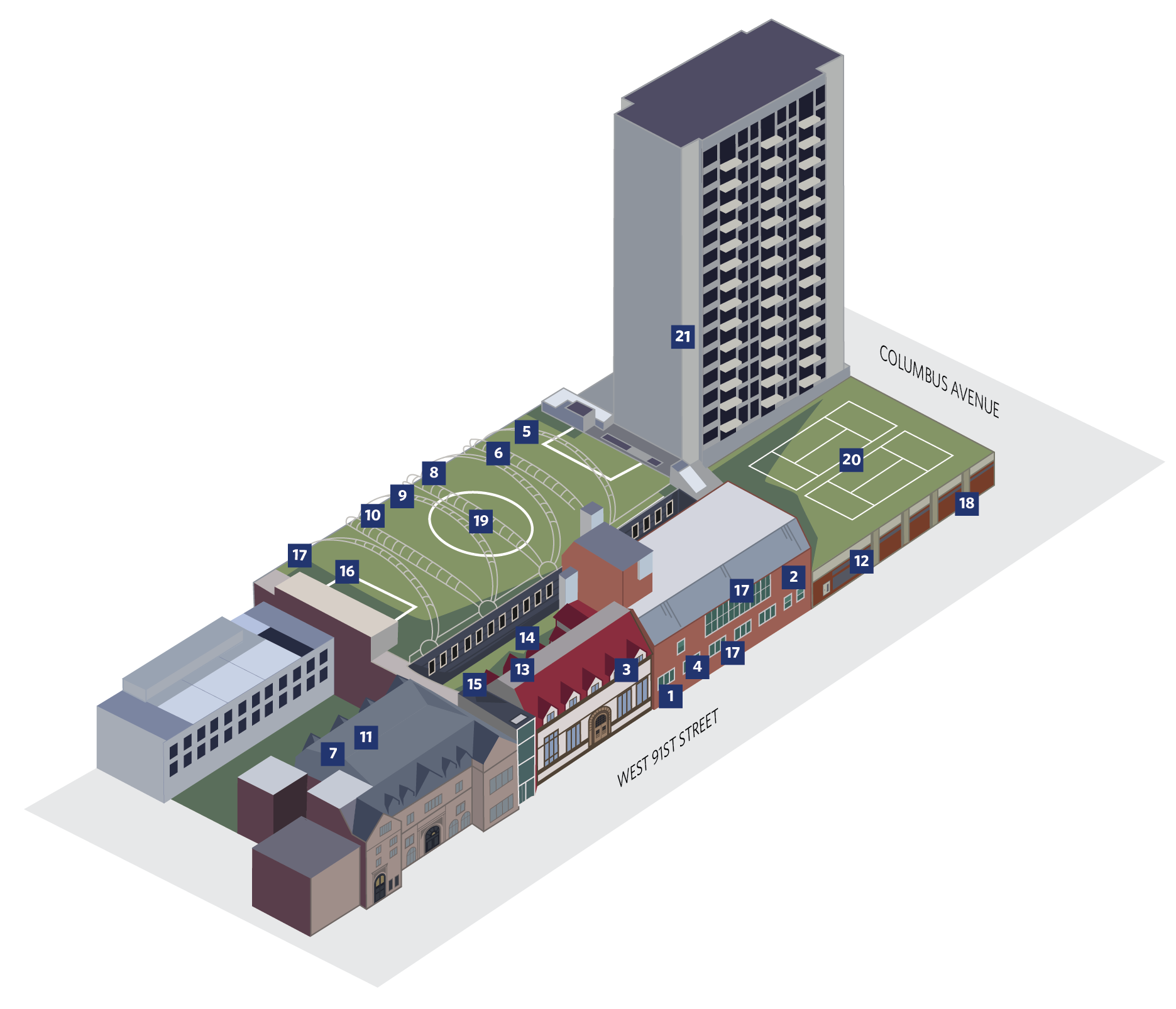 115 Entrance
This is the main entrance for students in grades 5-8. Students are greeted each morning by the Middle School Principal, and the Assistant Principal.
5th Grade Classrooms/Homerooms
Since fifth graders are just beginning their Middle School experience, these classrooms are set up as a home base for students. The majority of their academic classes are held in their homerooms, though they do travel for their specials. Students use cubbies in their homerooms to organize their materials and store their textbooks.
Middle School Science Labs
There are four science rooms located in the annex, two for fifth and sixth-grade classes and two for seventh and eighth-grade classes. The fifth and sixth-grade science rooms are configured for the hands-on group work that occurs. The seventh and eighth-grade rooms contain more complex lab equipment to accommodate the higher-level experiments that are performed. The Middle School science curriculum is very interactive and encourages students to explore and discover.
7th and 8th Grade Classrooms
Seventh and eighth grade classrooms are set up to encourage vibrant group discussions during lessons, allowing students to easily interact with each other and share their ideas. Most classes are discussion based which allows teachers to present topics and open the floor for discussion. From English classes to Latin classes, discussion is at the heart of the Middle School experience.
Ceramics Room
The Ceramics Room is predominantly used for the Ceramics visual art classes, which are taken by all levels of ceramists and enjoyed by all. However, students are more than welcome to use the room to make art during their free time.
Art Studio
The visual arts studio, where Middle and Upper School art classes are taught, is a breeding ground for creativity. Students learn everything from sketching techniques to printmaking to portfolio building. "When classes aren't going on, the room and its resources are still available to any student who wants to do some independent work, chat with the art teachers, or just get away from the bustle of other parts of school. Any artistic additions to the wall are encouraged here too!" –H.G.
Lower-Middle Library
Newly renovated in 2020, the library is one of the largest elementary school libraries in the city. Middle School students can visit the Lower-Middle Library during recess. Students can take out books or enjoy quiet study time in the dedicated Middle School section of the library.
Chorus Room
The Chorus Room is used for Upper and Middle School singing ensembles and classes. "Chorus is a great change of pace from my academic courses. Whenever I walk into the chorus room, I get so excited to sing with my classmates! We work on songs from many different genres, from show tunes to rock-n-roll. One of my favorite songs this year was a mashup of Signed, Sealed, Delivered. Chorus performs at chapels, Community Times, and other events throughout the year." –S.L.
Orchestra Room
The Orchestra Room is most often used as a rehearsal space for Trinity's two Upper School orchestras, which meet as courses during the school day, and Middle School instrumental ensembles. When it is not occupied by classes, performing arts-loving students can use it as a practice room for any instrument. Private music lessons can also be arranged during free periods and after-school in this room, or in other practice rooms.
Other Performing Arts Rooms
In addition to Chorus and Orchestra Rooms, Trinity also has many other music-related classroom and practice spaces, including Guitar and Band Rooms as well as large and small practice rooms.
Johnson Chapel
Home to religion courses as well as meditative gatherings and yoga classes, the Johnson Chapel is the smaller of Trinity's two chapels.
Hawley Chapel
Located near the Upper School entrance, the Hawley Chapel is a large gathering space used by all divisions. Students and teachers come together for a time of introspection, community conversation, and special events.
Morse Theater
The Morse theater is undergoing a complete renovation and is scheduled to open in the fall of 2022. These architectural renderings provide an advance look at the new theater.
Outdoor Commons
Built during the 2016 campus renovation, the Outdoor Commons is a large courtyard that connects the Lower, Middle, and Upper School buildings.
Berlind Garden
The Berlind Garden is a serene space in which students and teachers can relax and enjoy a few quiet moments during a busy school day at Trinity.
Dining Hall
The Dining Hall serves lunch and other light fare to all Trinity students, faculty and staff. It is also a gathering place for afterschool programs, school meetings, and public service events for the surrounding community.
Gymnasiums & Multipurpose Athletic Facilities
With two full-sized Gymnasiums, and a Wrestling Gym-Multipurpose Facility, Trinity has more than enough space for both recreational P.E. classes and Middle and Upper School sports team practices and games.
Swimming Pools
With both a Junior Olympic lap pool and ten-foot diving pool, Trinity is equipped to teach our youngest students to swim while also coaching our Middle and Upper School swim teams to the highest levels
Rooftop Field: "The Turf"
The Turf is a full-size rooftop field that serves as a play and relaxation space for all grades, and as a place for after school team practices.
Tennis Courts
The rooftop tennis courts are used for tennis team practices as well as a recreation area for Lower and Middle School students during the school day.
Trinity House
Trinity House, an apartment building attached to campus, offers housing to many faculty and staff members.Trinity House, an apartment building attached to campus, offers housing to many faculty and staff members.
MIDDLE SCHOOL
Tour Spaces

115 Entrance

5th Grade Classrooms/Homerooms

Middle School Science Labs

7th & 8th Grade Classrooms

Ceramics Room

Art Studio

Lower-Middle Library

Chorus Room

Orchestra Room

Other Performing Arts Rooms

Johnson Chapel

Hawley Chapel

Morse Theater

Outdoor Commons

Berlind Garden

Dining Hall

Gymnasiums and Multipurpose Athletic Facilities

Swimming Pools

Rooftop Field: "The Turf"

Tennis Courts

Trinity House