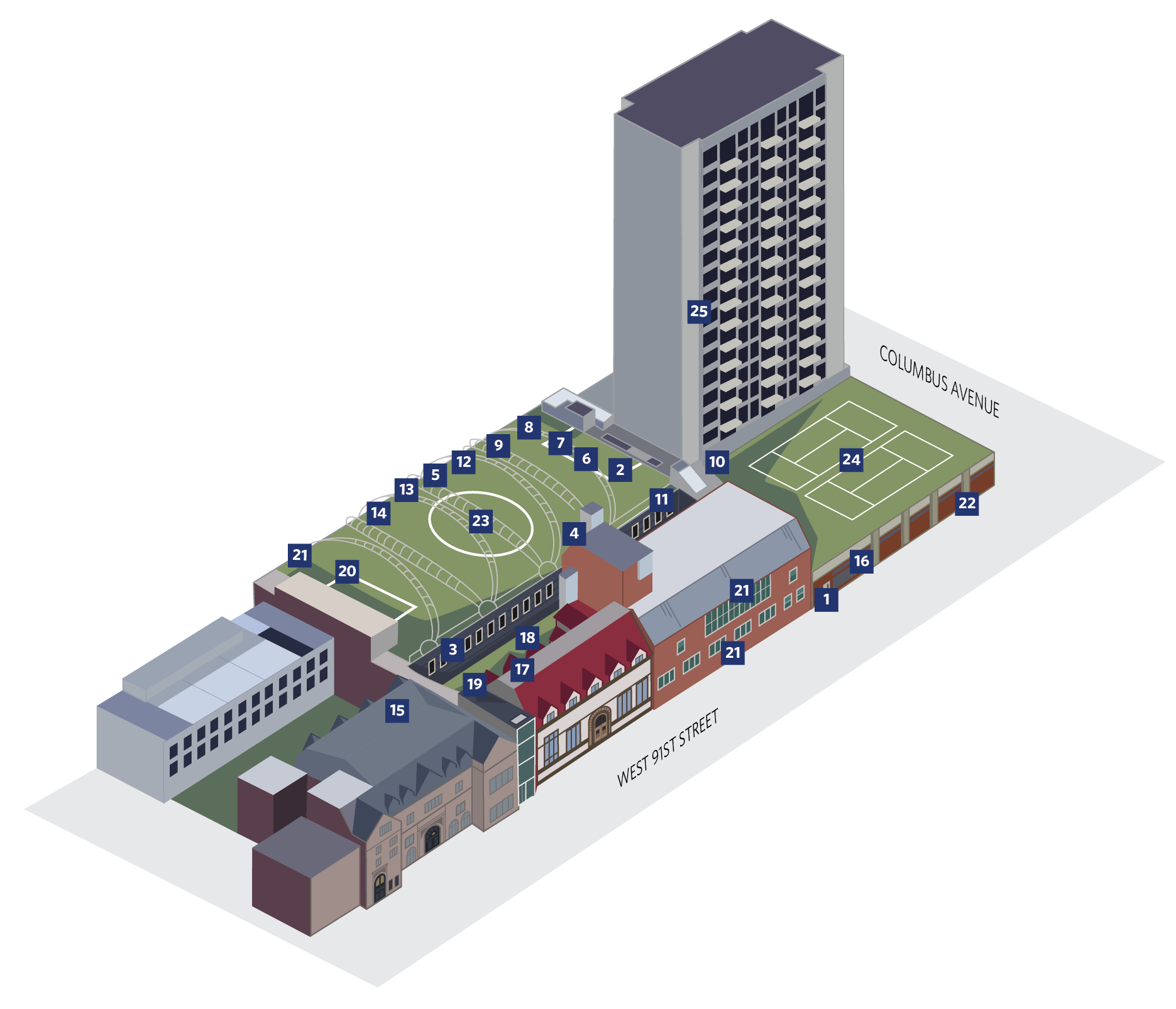 101 Entrance
The main entrance of Trinity's Upper School, "The 101" guides hundreds of students, teachers, faculty, and parents in and out of its welcoming doors. Everyone is greeted by smiles from the security staff. Friends wave "hello" before class, or while heading into Community Time or Chapel in the morning.
Humanities Classroom (English)
"With an emphasis on discussion and interaction, the English Department at Trinity is truly one of a kind. At any specific moment, one can find an English class discussing authors ranging from Shakespeare and Chaucer to Morrison and Tolstoy, and genres ranging from novels, poetry, and plays. English teachers enthusiastically guide conversations through topics, including a specific symbolism or allegory in a novel, line-by-line analysis, to foreshadowing and recurring themes." –A.B.
Math Lab
The Math Lab is a very popular space in the Upper School. Students visit for a variety of reasons: to work on homework with classmates, to receive help on a particular topic, or to review for an upcoming test. "It's helpful sometimes to work with teachers and students who aren't in your actual math class. At any hour of the school day, you can find Trinity math teachers guiding students in the Math Lab." –A.B.
Science Lab
The science labs are where all science classes are held. Science classes at Trinity are extremely hands-on: classes will frequently use lab equipment to conduct experiments and draw conclusions. After-school science programs like neuroscience are also held in the science labs.
History Suite (Teacher's Office)
Whether it be continuing a conversation from class, asking a question about an upcoming assignment, or just stopping by to say hello, the history teachers always have their door open. Students of all grades stop by frequently—from freshmen and sophomores taking Global History I and II, juniors taking American History, to seniors taking specific electives. All teacher offices are open to students in this way.
Tech Room
This room is where computer science class and after school robotics practices are held. There are five 3D printers, as well as one laser cutter. Computer science classes at Trinity are extremely hands-on: students are taught a concept and code a project using that concept. As computer science classes become more advanced, students spend more and more time experimenting with code for themselves.
Photography Room
The Photography Room includes a full dark room and a digital photo lab where students spend time learning about and practicing different forms of photography. Students are introduced to both film and digital photography and are pushed to explore the boundaries of what photography can be, from printing on wood blocks to creating their own pinhole cameras and learning how to edit on Photoshop. The photography room also has a plethora of reading materials, introducing students to many different photographers' works
Ceramics Studio
The Ceramics Studio is predominantly used for the Ceramics visual art classes, which are taken by all levels of ceramists and enjoyed by all. However, students are more than welcome to use the room to make art during their free time.
Art Studio
The visual arts studio, where Middle and Upper School art classes are taught, is a breeding ground for creativity. Students learn everything from sketching techniques to printmaking to portfolio building. "When classes aren't going on, the room and its resources are still available to any student who wants to do some independent work, chat with the art teachers, or just get away from the bustle of other parts of school. Any artistic additions to the wall are encouraged here too!" –H.G.
Upper Library
With its different areas – collaborative, silent, study nooks, and even a conference room – there is a space for everyone at the Upper School library. Students go there during free periods or morning break to study, relax with friends, or work on research with librarians. The library is a favorite place for many students!
Student Lounge
The student lounge is a large, common space shared by all four grades. It is furnished with comfortable couches and chairs, and the large sliding doors open to the outdoor commons. It might be the most lively space in the building! Students can go there to relax and have fun talking with their classmates.
Chorus Room
The Chorus Room is used for Upper and Middle School singing ensembles and classes."Chorus is a great change of pace from my academic courses. Whenever I walk into the chorus room, I get so excited to sing with my classmates! We work on songs from many different genres, from show tunes to rock n roll. One of my favorite songs this year was a mashup of Signed, Sealed, Delivered. Chorus performs at chapels, Community Times, and other events throughout the year." –S.L.
Orchestra Room
The Orchestra Room is most often used as a rehearsal space for Trinity's two Upper School orchestras, which meet as courses during the school day, and Middle School instrumental ensembles. When it is not occupied by classes, performing arts-loving students can use it as a practice room for any instrument. Private music lessons can also be arranged during free periods and after-school in this room, or in other practice rooms.
Other Performing Arts Rooms
In addition to Chorus and Orchestra Rooms, Trinity also has many other music-related classroom and practice spaces, including Guitar and Band Rooms as well as large and small practice rooms.
Johnson Chapel
Home to religion courses as well as meditative gatherings and yoga classes, the Johnson Chapel is the smaller of Trinity's two chapels.
Hawley Chapel
Located near the Upper School entrance, the Hawley Chapel is a large gathering space used by all divisions. Students and teachers come together for a time of introspection, community conversation, and special events.
Morse Theater
The Morse theater is undergoing a complete renovation and is scheduled to open in the fall of 2022. These architectural renderings provide an advance look at the new theater.
Outdoor Commons
Built during the 2016 campus renovation, the Outdoor Commons is a large courtyard that connects the Lower, Middle, and Upper School buildings.
Berlind Garden
A serene space, the Berlind Garden is meant to be a reflective spot for students and teachers alike to spend a few moments of quiet during a busy school day.
Dining Hall
The Dining Hall serves lunch and other light fare to all Trinity students, faculty and staff. It is also a gathering place for afterschool programs, school meetings, and public service events for the surrounding community.
Gymnasiums and Multipurpose Athletic Facilities
With two full-sized Gymnasiums, and a Wrestling Gym-Multipurpose Facility, Trinity has more than enough space for both recreational P.E. classes and Middle and Upper School sports team practices and games.
Swimming Pools
With both a Junior Olympic lap pool and ten-foot diving pool, Trinity is equipped to teach our youngest students to swim while also coaching our Middle and Upper School swim teams to the highest levels.
Rooftop Field: "The Turf"
The Turf is a full-size rooftop field that serves as a play and relaxation space for all grades, and as a place for after school team practices.
Tennis Courts
The rooftop tennis courts are used for tennis team practices as well as a recreation area for Lower and Middle School students during the school day.
Trinity House
Trinity House, an apartment building attached to campus, offers housing to many faculty and staff members.T
101 Entrance

Humanities Classroom (English)

Math Lab

Science Lab

History Suite (Teacher's Office)

Tech Room (Computer Lab)

Photography Room

Ceramics Studio

Art Studio

Upper Library

Student Lounge

Chorus Room

Orchestra Room

Other Performing Arts Rooms

Johnson Chapel

Hawley Chapel

Morse Theater

Outdoor Commons

Berlind Garden

Dining Hall

Gymnasiums and Multipurpose Athletic Facilities

Swimming Pools

Rooftop Field: "The Turf"

Tennis Courts

Trinity House